I know it's Monday and I'm supposed to help you start your week off with a little sugar (and I did do some baking this weekend), but this couscous salad I assembled for lunch with the McInlaws yesterday was better than the dessert I made.  I didn't take any pictures so I will hope that Mel is okay with me borrowing hers – which is WAY better than one I would've taken –  and giving her full credit.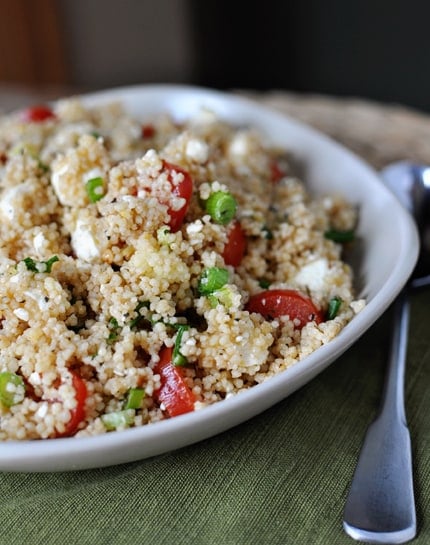 This couscous salad was our main dish so I added some canned tuna to it to bulk it up a bit.  I used the dried basil instead of fresh and served the feta on the side (the McHusband isn't a fan) but otherwise stuck to the recipe.  We all loved this salad, and I look forward to making it often in the future and eating some leftovers for lunch today.
We had such a nice visit with the McHusband's parents and are so happy they were able to come spend some quality time with Connor.  Unfortunately, I am a big loser in both the mom and blogger arenas for not taking any pictures of them together.  Doh!  Can I claim sleep deprivation or has the clock run out on that excuse now that we're about 4.5 months into this parenthood thing?
Speaking of…  You know how Connor's iffy on the stroller?  I decided to put him in the actual stroller rather than having him in the car seat attached to the stroller for our walk on Sunday.  Guess what? He loved it!  I thought for sure by the end he'd be dozing off, but he was still wide awake, just in a content chill way.
Oh man, do I love this little guy!
Have a great Monday!  It's a four-day week so today's already off to a good start, right?  Oh, and if you need to contribute a side dish to a Fourth of July party, make this salad.  People will love you and think you're amazing.  Who doesn't want that?
{Recipe adapted from here}