Our weekend started with a trip to Buy Buy Baby to test drive strollers.  We were lucky to have a very knowledgeable salesman make some recommendations and answer LOTS of questions while we pushed strollers around and showed what newbies we were when trying to fold floor models and load up the infant carrier. 
Don't worry, McBaby, by the time you're here, I'm sure we'll have a MUCH better idea how the contraption works.
We decided on the Bob Motion Travel System in the gray and black color combo you see in the picture.  It was really important for us that the stroller be comfortable for our taller heights and longer legs.  This one has an adjustable handle and the storage space underneath, while a little smaller, allows for our longer strides. 
The McHusband took the wheels off and declared their construction and way of attaching sound.  We practiced folding and unfolding the stroller and loading it into my trunk.  We compared its weight to another slightly smaller stroller and it's a touch heavier, but not so much so that the difference was a a point against this one.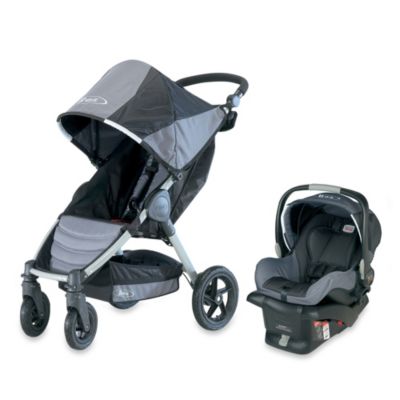 So…  One decision made, 629 more to go.