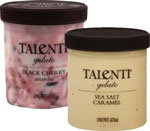 Remember that Sea Salt Caramel Gelato I told you about a little while ago?  Well, Harris Teeter has the Talenti Gelato pints on a BOGO sale this week.  Which means you SHOULD go ahead and buy two, but if I haven't quite convinced you of how wonderful the stuff is, at least you can pick up one at half-price.
But don't complain to me when you end up BACK at Harris Teeter before the sale ends to officially take advantage of the BOGO deal so that by Tuesday when the sale's over, you've ended up buying at least three pints of this delicious frozen treat.
I myself plan to get one of the other flavors that's not quite so bad for me in addition to the Sea Salt Caramel.  There's just no way I can resist getting a little more of that scrumptious stuff, but I don't want to feel too guilty for eating TWO fully loaded pints of gelato.
By the way, have you seen the forecast for the next week in the Raleigh area?  Yikes!
Definitely gelato weather.  You gotta do what you gotta do to stay cool and if that means eating gelato by the pint, I say go for it!